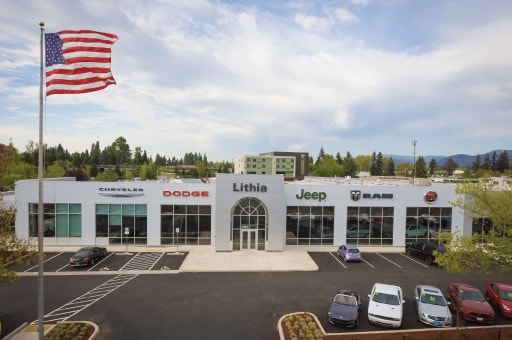 As part of the Lithia CDJR family, we want to make certain you and your family stay safe and healthy. With the recent updates and news regarding the Coronavirus, we know that your vehicle is vital to your mobility. In response to the many questions our customers have, we wanted to keep you informed regarding the steps we are taking to make your experience safe, convenient and as seamless as possible.  
Lithia Chrysler Dodge Jeep RAM Fiat of Eugene IS OPEN
At this time, our dealership is open and fully operational to ensure we can take care of all your vehicle needs. Rest assured we are taking all precautionary measures to ensure that our facility and vehicles are disinfected and sanitized on a continuous basis. Anyone who comes in contact with your vehicle will wear gloves and we will wipe down each and every car prior to returning it and prior to any test drives.  
Our brand new facility is large, open and has plenty of room for social distancing.  
We will continue to monitor the situation and abide by all CDC and government recommendations to ensure we keep everyone as safe as possible.  
COMPLIMENTARY PICK-UP/DELIVERY FOR ALL SERVICE APPOINTMENTS
We are offering free pick-up and delivery of your vehicle up to 60 miles from our location for any scheduled service. Simply call 541-343-1700 and we will schedule your pick up.  
COMPLIMENTARY TEST DRIVES DELIVERED TO YOUR HOME OR OFFICE
We also provide test drives at your home or office up to 60 miles from our location. Simply call 541-343-1700 to schedule your test drive. Our sales associate will disinfect the car prior to handing you the keys.  
COMPLIMENTARY DELIVERY OF ALL NEW AND PRE-OWNED VEHICLES
All new, CPO and pre-owned vehicles will be delivered to your home up to 60 miles from our location per your scheduled date and time. We can work with you to complete all paperwork over the phone/email and deliver the final documents with your delivery. You don't have to come to the dealership if you choose not to. We want you to be comfortable and confident about your experience and will do whatever it takes to make you feel at ease.  
Thank you,
Rob Bennett
General Manager
Lithia Chrysler Dodge Jeep RAM Fiat of Eugene