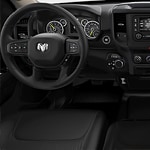 If you're looking for a light-duty pickup that combines safety, functionality, and durability, you can count on the Ram 1500. This popular truck has been a favorite of drivers in and around Eugene, OR for years, and our team is excited to show off all of the features that are included on the latest Ram 1500 line-up.
When you're on traveling at highway speeds on a busy roadway, you'll love having access to intelligent cruise control and blind-spot monitoring to help you avoid hazards and arrive safely at your destination. Coming to rest is also simpler with optional parking assistance technology that makes even parallel parking a snap.
The Ram's designers incorporated high-strength steel into its frame and also equipped the brakes with extra stopping power thanks to increased surface area for the ultimate in peace of mind.