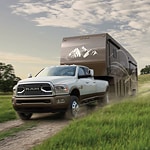 Exterior features of the Ram 3500 have a lot of things that people like. Simple adaptations such as the heated mirrors and the LED lights in the bed of the truck are a big deal, but it doesn't stop there. This truck has fifteen different kinds of wheels that you choose from.
There are LED headlights as well which are quite bright and helpful for getting around on dark and dangerous roads. Those lights are known to keep drivers a bit safer and make life on the roads a bit easier for everyone.
The tailgate is one final exterior feature worth mentioning. It is designed to come down and be put back up quite easily. There is even a button on the key fob that you can press twice to move the gate to just the spot that you need it. That is what makes loading up the Ram 3500 easy and fast.